Campaign against Russia's anti-gay laws entering new phase…

Kentucky National Guard to issue gay spousal benefits: "Kentucky Adjutant General Edward Tonini recommended the state follow Defense Department policy and a U.S. Supreme Court's ruling, and Beshear affirmed it, said Kerri Richardson, the governor's spokeswoman."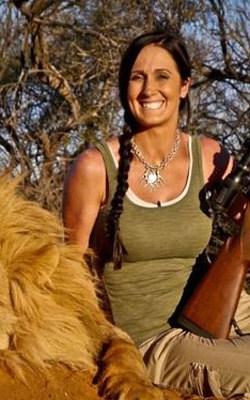 TV presenter Melissa Bachmann is proud of killing a lion: "An incredible day hunting in South Africa! Stalked inside 60-yards on this beautiful male lion… What a hunt!"

Kanye West's ego has not yet deflated.

Ace Hotel founder Alex Calderwood dies at 47.

AP marks 10th anniversary of gay marriage in Massachusetts: "Such gains were considered almost impossible before Massachusetts opened the door on Nov. 18, 2003, with a Supreme Judicial Court ruling that declared a ban on gay marriages unconstitutional. Opponents made doomsday predictions about how gay marriage would damage traditional marriage and lead to problems with children raised in same-sex households."

Angelina Jolie breaks down receiving humanitarian Oscar.

U.S. Army robots will outnumber soldiers by 10 to 1 by 2023: "Talking at a US Army demonstration of autonomous weaponized robots at Fort Benning, Georgia, experts said that 'ten years from now, there will probably be one soldier for every 10 robots. Each soldier could have one or five robots flanking him, looking for enemies, scanning for land mines.'

Kanye West to debut "Bound 2" video on Ellen, which may star Kim Kardashian.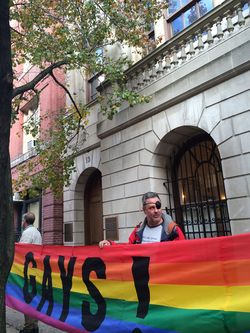 Queer Nation protests Russia Forum NY outside The Koxciuszko Foundation: "Conference organizers called the police—911 the cops told us, apparently it was a gay emergency! Cops responded, spoke to us and organizers and explained to the Russian organizers that our protest was breaking no American laws, and the First Amendment of the Constitution guaranteed our right to protest on a public sidewalk."

7 ways to be insufferable on Facebook. "A Facebook status is annoying if it primarily serves the author and does nothing positive for anyone reading it."

Buzzfeed's Chris Geidner profiles pioneering marriage equality lawyer Mary Bonauto: "The lawyer brought marriage equality cases in Vermont, Massachusetts, and Connecticut. She argued the case to the justices in Massachusetts who brought marriage equality to the United States. She won the first decision striking down the Defense of Marriage Act's federal definition of marriage, and the first appellate decision too — a ruling that forced the issue before the U.S. Supreme Court earlier this year. If there's been a big moment in marriage equality's long march to reality, Bonauto was probably there."

Male model fix: Dan Murphy.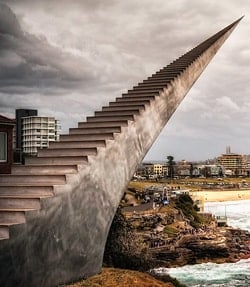 And she's buying a stairway to…?

"Proud bigot" attends anti-gay banquet.
Deep water diver from Brooklyn dies trying for a record: "At 12:25 p.m. Sunday, surrounded by 15 other athletes and observers, as well as five safety divers, he turned and submerged, face first and looking like a human arrow shooting into the darkness on what would be the last dive of his life.

Interscope may be out $25 million for Gaga's ARTPOP.

Gay Tory MP Crispin Blunt defeats homophobic attempt to block his candidacy: "Supporters of Blunt had dubbed their campaign to save the former minister 'Operation Meteor' – named after the meteorite that killed the dinosaurs – in the wake of evidence of homophobia after he came out in 2010, ending his marriage to his wife Victoria."