Eat more nuts: Nut consumption reduces risk of death.

Stormwatch: Thanksgiving Nor'Easter brewing for the East Coast.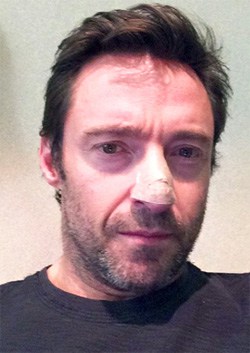 Hugh Jackman diagnosed with skin cancer: "Deb said to get the mark on my nose checked. Boy, was she right! I had a basil cell carcinoma. Please don't be foolish like me. Get yourself checked. And USE sunscreen!!!"

Call disaster relief: It's raining in L.A.!!!!!

Omaha police union president blasts anti-gay mayor Jean Stothert for refusing benefits to married gay spouses: "(City officials have) decided that they're not going to do the right thing by these folks, that they're going to play politics…Most other corporations and other entities have these types of benefits in their health care plan."

VIDEO: The live announcement's of JFK's death on all three networks.

University of Central Florida embroiled in ploy to keep Mark Regnerus documents secret: "The University of Central Florida (UCF) has ramped up its legal efforts to block the release of over 50,000 documents related to the flawed same-sex parenting study by Mark Regnerus that appeared last year in the publication Social Science Research, housed at UCF.  A judge ruled the university had to release the documents, deemed public records under Florida law. Late last week, UCF retained legal counsel and ignored the court order."

If you're not too sick of it yet, here's a great a cappella cover of "Royals".

Adam Lambert and the cast of Glee are singing to raise money for The Trevor Project.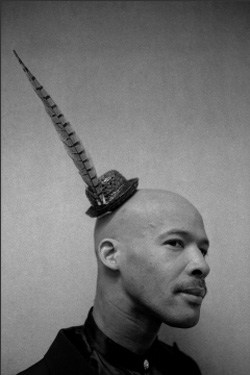 Gerard Gaskin's portrats of the NYC house balls. "The participants, mostly black and Latino young men, have often been marginalized by society and their families. But at the house balls, they support one another as they explore their gender identity through extravagant dress and glamour."
F

amily Research Council's ridiculous claim: "Obviously, if anyone needs an ENDA, it's conservatives — not those who, for the last five years, have had their way under President Obama."

Former Oakland City Council candidate Sean Sullivan is planning an LGBT bar for the city: "Called the Port bar, Sullivan said the tagline is 'A hetero-friendly place to unload.' He hopes to have the bar open next spring. Port will be located at 2021 Broadway, next to the Paramount Theatre. Sullivan said the location is ideal as it's centrally located between Uptown and the existing gay bar scene." He has an Indiegogo campaign HERE.

Daniel Radcliffe is "refreshingly boring."

Here's the work-unfriendly trailer for Lars von Trier's Nymphomaniac.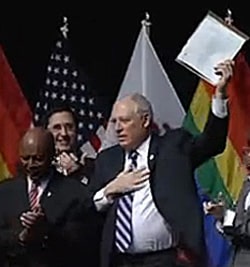 The tax dollars spent on carting Lincoln's desk to Chicago for the Illinoise marriage equality bill signing is apparently a big scandal in Springfield.

Joe Pojman, executive director of the Texas Alliance for Life: "We never count chickens before they hatch, even though they are chickens because we do believe life begins at conception."
S

t. Petersburg, Russia Side by Side LGBT Film Fest goes on despite bomb threat: "The sixth Side by Side LGBT Film Festival opened, albeit a 2 hour delay, yesterday evening on 21 November, 2013 at Karo Cinema Multiplex, Saint Petersburg. Proceedings were expected to begin at 19.30 however due to an unknown caller contacting the Shopping Centre, Varshavsky Express, at around 19.00 claiming that a bomb had been left on the premises the shopping centre was evacuated. After an hour and a half of checks by police and disposal experts the claims proved to be false and the building was declared safe of any explosive devises."