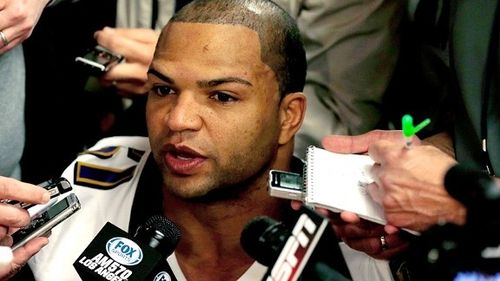 According to a story in Bleacher Report, at least two openly gay players were on the verge of signing with the NFL last spring. You may recall rumors at the time that were floated, but then shot down, by former Ravens player Brendon Ayanbadejo.
Mike Freeman writes:
This past spring, it seemed imminent that barrier was going to collapse with not one, but two players having found teams that would sign them knowing they would come out.
Along with the initial player discussed in this article, there was a fairly well-known defensive back. He drew interest from at least one AFC team that knew he was gay. Coaches on the team were asked if they were OK with a gay player. They were. Some defensive players were casually queried, according to an official on the team. All of the players asked said it wouldn't be an issue. They were not told the name of the player.
According to the team, the potential deal collapsed because the player wanted too much money, Bleacher Report adds, though some believe it was because of the intense media heat generated by Jason Collins' coming out:
The first player, the one who expected to sign in June, heard in mid-to-late May from the interested team that it would no longer be signing him, officials from other teams told Bleacher Report. The player was told the reason why was fear of intense media coverage…The NFL player told a former teammate he believes the Collins story, and others about gay athletes around that time, caused the team to withdraw its offer. It was afraid of the attention. Now, six months and countless injuries to active players later, neither he nor the other player has signed with a team.
Much more at Bleacher Report…