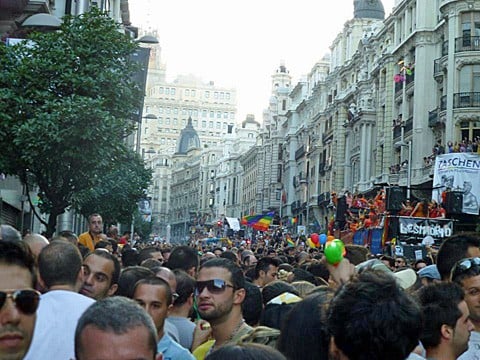 Organizers of Madrid's Gay Pride festivalsay the city is trying to financially "strangle" the event by imposing excessive fines that will shut it down if they continue, the Guardian reports:
"You can't levy such barbaric fines on an event that's so important to the city," said Boti Rodrigo, president of the Federación Estatal de Lesbianas, Gays, Transexuales y Bisexuales. "These fines put the survival of Madrid Pride in serious jeopardy."
This is the fourth successive year the festival has been fined for noise violations. Past fines ranged from €35,000-€50,000, against which organisers successfully appealed and had reduced or waived. The courts have so far reduced one of the fines to €600, but have yet to rule on the other two. This year's edition of Madrid Pride, held in July, earned 15 fines totalling €159,809. Organisers have appealed against the fines, but said it could take more than a year before they find out if their appeal is successful.
"We've never seen city hall so short-sighted, with such little political will towards us," said Rodrigo. The celebration of gay pride, started in 1979, attracts an estimated 1.5 million people each year and offers the city a chance to "show that Madrid is an open, multicultural and tolerant city".
The root of the problem appears to be in Madrid's mayor Ana Botella:
"She's putting up permanent barriers to our success," said Rodrigo. "What's clear is that the ideology of a person, when that person is the mayor of Madrid, shouldn't interfere at all in her political responsibilities."
In 2011, when Botella was Madrid's councillor for the environment, she introduced stringent noise limits in residential areas. The restrictions forced Madrid Pride to resort to silent concerts, where participants danced to music streaming through their headphones.