Earlier we reported on two amendments being sought by Republicans expanding religious exemptions in the Employment Non-Discrimination Act (ENDA). One of those has been adopted, the AP reports: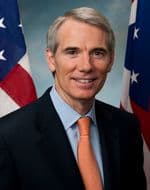 By voice vote on Wednesday, the Senate approved an amendment from Sens. Rob Portman of Ohio and Kelly Ayotte of New Hampshire that would prevent federal, state and local governments from retaliating against religious groups that are exempt from the law.
Gay rights groups and Democrats did not oppose the change.
The vote sets the stage for likely passage of the bill on Thursday after the Senate considers an amendment from Republican Sen. Pat Toomey of Pennsylvania that would expand the number of groups that are covered under the religious exemption.
More on those amendments here.