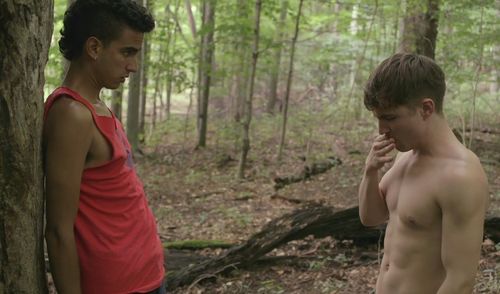 "Nature," the fifth episode of "Whatever this is." gets down and dirty and finds our protagonists dealing with some of their more primal urges and instincts. Largely departing from the familiar terrain of New York City, this newest episode takes its inspiration from the momentary respite the characters find from their busy, tangled lives. 
The latest installment of Adam Goldman's brainchild finds Sam, Ari, and videographer Dana becoming one with the earth as they shoot a sort-of documentary about a tree-hugging yogi. Even more intriguing is Toby's replacement on the film crew by a handsome new guy, Sam and Dana finding their inner "Om," and Ari getting back to nature with a little marijuana. To top it off, Lisa is back in the city performing a new service for her lesbian employers, Alex and Chris.
Check out this fabulous and honest series' newest episode, AFTER THE JUMP…
And in case you've fallen behind, catch up with Episode One, Two, Three, and Four.