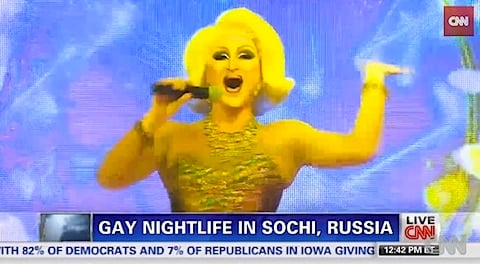 CNN speaks to gay locals in Sochi about the upcoming Olympics and what life is like in the Russian resort town and visits Cabaret Mayak, a gay nightclub which features drag shows.
Watch, AFTER THE JUMP…
In related news, ABC News went to Cabaret Mayak as well:
Behind a heavy, locked door, in a dark alley just off the beach promenade, Sochi's biggest gay club, Mayak Cabaret, is packed.
The owner, Andrei Tanichev, told ABC News recently that he's against an Olympic boycott. He also opposes a massive gay rights protests during the games, fearing the gay community will be blamed for ruining the event. Instead, he'd like to see athletes and fans show their support in more subtle ways.
"I think that expressions have to be positive. I don't know, maybe something symbolic. Maybe a kiss. Something positive," he said.
"I would like some athletes to come out – those who win, for example," he suggested, drawing comparisons to Jesse Owens' victories in the face of Nazi racism during the 1936 Berlin Olympics.
Tanichev says Russians consider gays to be "freaks or pedophiles," and therefore he hopes if a star athlete can come out of the closet, it might help break down crippling stereotypes.
"What is important for me as far as the Olympics are concerned and in general, is that when they show gays, that they are seen like ordinary citizens," he said. In fact, he would one day love to close his gay club and know that all people are welcome everywhere.