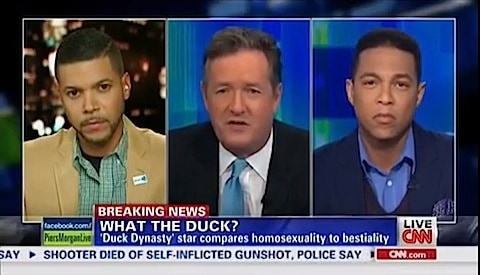 Piers Morgan spoke last night with GLAAD's Wilson Cruz and CNN's Don Lemon, both gay men, about the suspension of Duck Dynasty star Phil Robertson for anti-gay remarks he made in a GQ interview.
Lemon, a Louisiana (where Duck Dynasty is filmed) native, said he believes that Robertson should not be fired but that "the market should decide" his fate and that though he believes Robertson's remarks were "deeply offensive" he believes in free speech.
Wilson said that Robertson's remarks "do not reflect the true Christians out there" and said "it's just not who we are as Americans anymore."
Watch, AFTER THE JUMP…