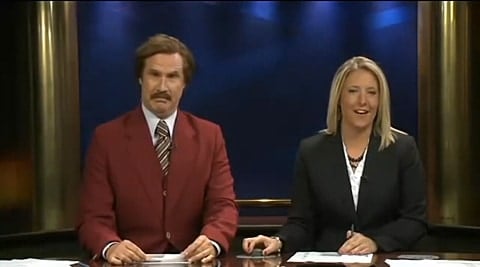 In an extended bit of viral marketing, Will Ferrell anchored an entire real-life newscast on Saturday night in Bismarck, North Dakota as his Anchorman character Ron Burgundy. His real-life co-anchors often struggled to keep a straight face.
The AP reports:
No money changed hands, Blumhagen said, and both the movie and television station are garnering significant publicity from the numerous shares on Facebook and Twitter.
Station managers did want some assurances that the stunt wouldn't go too far, and Blumhagen said Ferrell was on board with maintaining the integrity of the newscast.
Schatz, who typically anchors the weekend newscasts alone, said she didn't learn that she'd share the dais until Wednesday. It was a complete surprise to viewers.
Watch the full newscast, AFTER THE JUMP…