Matteo Renzi, the newly elected secretary of Italian Democratic Party, announced on Sunday that he will introduce a civil partnership bill in Italy, Agere per Formulas reports: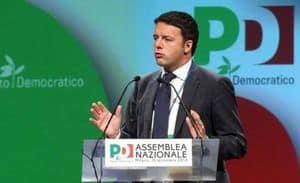 The Civil partnership bill, which is not yet published, will allow straight and gay couples to register their partnership before the Registrar of Marriage and Births. The bill will amend the Italian Civil Code and provide the same rights and obligations of marriage.

Due to the most conservative wing of the Italian Government the bill will not provide adoption rights (even stepchild adoption). Further expansions of the bill will be considered in the future.
In the coming days the bill will be published and according to Renzi will be approved next year.

In these days the Justice Committee of the Italian Senate is considering different bills on the recognition of same-sex relationships – 2 will open marriage to same-sex couples and 3 will establish registered partnerships for straight and gay couples.

Only two Italian parties back Marriage Equality, Sel and the Five Star Movement of Beppe Grillo; Sel leader, Nichi Vendola is openly gay and the Governor of Apulia.