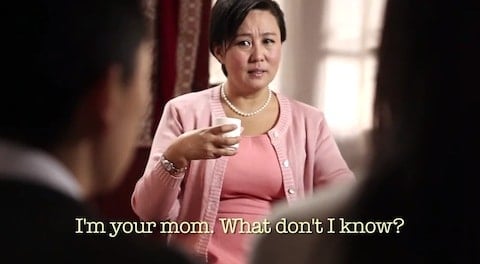 Filmmaker Quentin Lee has created China's first LGBT PSA for mobile devices and it has just been released on the website QueerComrades.com. Lee wrote, directed and edited the PSA with a volunteer cast and crew. Xiaogang Wei, founder of China's first AIDS Walk, who just won a Vanguard Award from the L.A. Gay and Lesbian Center, produced it.
The PSA follows a gay man and lesbian who are marrying each other to escape societal pressure, and a mother who encourages them to be themselves.
Watch, AFTER THE JUMP…
Said Lee in a press release: "When I was working in China earlier this year, I took the subway in Beijing every day and I saw people glued to their mobile devices watching content. I just thought it would be great to make a short web PSA for mobile devices to empower LGBT people in China….One of my Beijing lesbian friends told me that she was about to get married with a gay man because she wanted to get her parents off her back, and I was immediately inspired to do something about how young Chinese people, LGBT and beyond, are pressured to get married which is a really hot issue right now."
He added:
"I chose the short fictional PSA format because it's the best way to get the message out to Chinese audience on the web. The Chinese government is still relaxed on short film production. As all LGBT content is potentially subject to being banned in China, it's a challenge to do something that talks about LGBT issues while being acceptable."