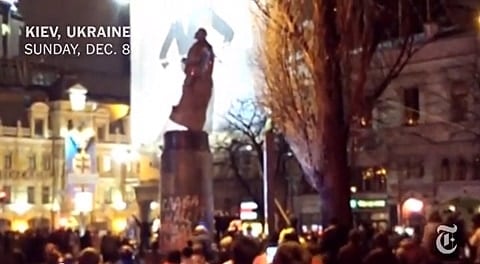 Protests in Kiev over Ukrainian President Viktor F. Yanukovich's refusal to keep promises to sign agreements that would strengthen ties between Ukraine and the European Union intensified over the weekend, with protesters bringing down a massive statue of Lenin, the NYT reports:
International concern over the unrest in Ukraine appeared to deepen on Sunday, as the United Nations secretary general, Ban Ki-moon, telephoned Mr. Yanukovich and Western leaders continued to call on him to respond to the demonstrators' demands. The European Union has been eager to draw Ukraine, a nation of 46 million, into closer alliance with the West, while Russia has sought to safeguard its major economic and political interests in its close neighbor. Making the crisis more acute, Ukraine is teetering on the verge of bankruptcy and is desperate for financial assistance from abroad.
The spreading disorder set off a new round of speculation that Mr. Yanukovich would declare a state of emergency and potentially turn again to force by ordering the removal of demonstrators who have occupied Independence Square and several public buildings, including Kiev's City Hall. There were reports on Sunday that the security services were preparing to bring charges of treason against three opposition leaders in Parliament who have been at the forefront of the demonstrations.
Meanwhile, pro-government supporters are using gay rights as an excuse for their support:
Pro-government demonstrators deployed a new tactic Friday to counter protests in favor of European integration, marching through the capital, Kiev, to oppose homosexuality, which they said would accompany a greater European Union role in Ukrainian affairs. Carrying religious icons and singing hymns, the group of about 1,000 Orthodox Christian supporters of President Viktor Yanukovych filed out of a monastery and marched to a city park. Marchers said they favored allegiance to Russia rather than Europe because Russia more closely matches the cultural and religious heritage of Ukraine, which was once part of the Soviet Union. They intend to draw attention to what they characterize as overly liberal European social values, they said.
The protests have captured international attention, and are gaining some high-profile supporters. Actor George Clooney taped a message for the people of Ukraine which began spreading on the internet today.
Watch it, and the statue coming down, AFTER THE JUMP…
UPDATE: According to late reports, it appears as if riot police are preparing to storm the square.