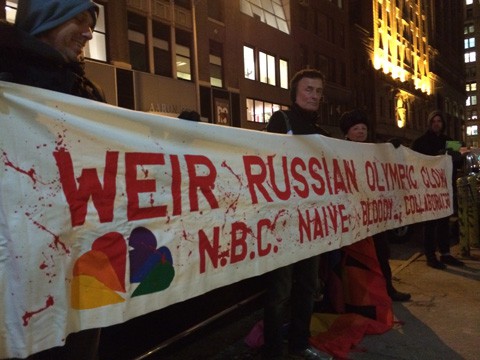 Queer Nation protested outside NBC's Sports Department holiday party outside a restaurant on East 30th street in NYC yesterday. The banner was sewn by Gilbert Baker, the creator of the Rainbow Flag.
Earlier in the day, the group hit the Today show holiday party.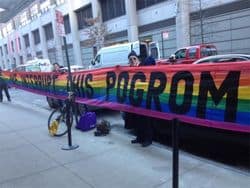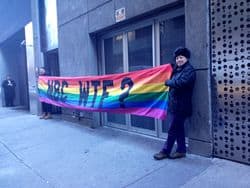 The group explained its actions in a press release:
Charging that NBC is misinforming its viewers about the dire circumstances of LGBT Russians ahead of its broadcast of the 2014 Winter Olympic Games in Russia, LGBT activists will demand that NBC tell the truth about Russia and its anti-LGBT laws.
"NBC has dispatched Olympic commentator Johnny Weir and MSNBC's Thomas Roberts, two openly gay men, to soft-pedal the Russian government's anti-LGBT bigotry," said Ken Kidd, a member of Queer Nation NY, an LGBT rights group. "LGBT Russians have been vilified, assaulted, tortured, murdered, and fired from their jobs by the Russian government and by Russian thugs. It's past time for NBC to report the facts about Russia."
NBC, which spent hundreds of millions of dollars for the broadcast rights for the Sochi Olympics, said in a Dec. 3 statement, "As we've previously stated, NBC will cover all newsworthy issues as they are relevant to the Games, including the LGBT law." The following events have transpired since then; NBC has reported on none of them:
– Dec. 5: New York State Comptroller Thomas DiNapoli asks 10 Olympic sponsors to oppose Russia's anti-LGBT laws.
– Dec. 6: At his Moscow concert, Elton John condemns Russia's anti-LGBT laws.
– Dec. 8: German President Joachim Gauck declares he will boycott the Olympics over Russian human rights violations.
– Dec. 10: European Union Justice Commissioner Viviane Reding says she will boycott Olympics over Russian human rights violations.
– Violence against LGBT Russian continues unabated and Russian government does nothing.
Weir and Roberts cover the Olympics for NBC. Roberts hosted the Nov. 9 Miss Universe pageant that was held in Moscow and broadcast on NBC; in Moscow, he made comments that minimized the harm of Russia's anti-LGBT laws. Weir, who also works for the Russian consulate in New York City, has consistently praised Russia and defended one of Russia's anti-LGBT laws at a recent appearance at Barnard College.
A story on Americablog revealed yesterday that Weir's bio claimed that he worked for the Russian consulate, a detail that was scrubbed immediately after the story came out.
The scrubbing was followed by a statement from Weir and his publicist saying that the figure skater had never worked for the Russian government.
Weir also tweeted: "I have never worked at or for a Russian consulate. I don't know where people get this stuff. XO"
Queer Nation also released a video yesterday, Olympic Jive, highlighting the Russian anti-gay laws and denouncing the IOC and its sponsors for standing by and doing nothing.
Watch it, AFTER THE JUMP…