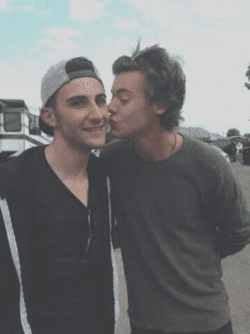 Harry Styles of One Direction (whose sexuality is the subject of THIS epic flame war) took his new girlfriend to NYC gay bar Therapy on Saturday, Us Weekly reports:
The same day that the One Direction singer, 19, and model/reality star, 18, were spotting leaving the Ganservoort Hotel in the Meatpacking District together, the pair resurfaced at Therapy with a few other pals, and "didn't make a huge deal about it," the source tells Us. Saturday's theme at Therapy was "Gays Gone Wild," with other bargoers dancing up a storm to pop hits. Alas, Styles, Jenner et al, however, didn't hit the dance floor, the source notes.
And it's not his first time at the bar:
"Harry has actually been her a few times before," the source explains of the fairly low-key hangout. "He's just a regular customer when he comes in — he gets a table and usually drinks beer and cocktail on the side."
The 1D boys were in the Big Apple for their Saturday Night Live appearance with Paul Rudd.
(image source)