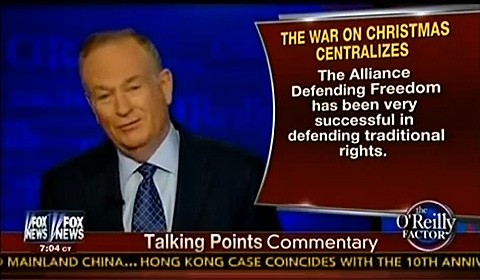 On last night's The O'Reilly Factor, Bill O'Reilly warned that 'The War on Christmas' continues this year.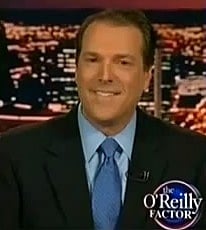 During his segment, O'Reilly praised and blessed the extremist anti-gay organization Alliance Defending Freedom for helping him save the holiday, inviting its senior vice president Doug Napier on the show to talk about ADF's legal battles, Equality Matters reports:
What O'Reilly omitted from his praise of the ADF for "defending traditional rights" is that the group is "virulently anti-gay," as the Southern Poverty Law Center put it. ADF has fought against gay rights at every turn and linked homosexuality to pedophilia, even currently working internationally to criminalize homosexuality.
Fox News has a cozy relationship with the ADF — the network's reports often lend preference to the ADF's discriminatory stances, and Fox figures have even solicited donations to the group.
Watch the segment, AFTER THE JUMP…