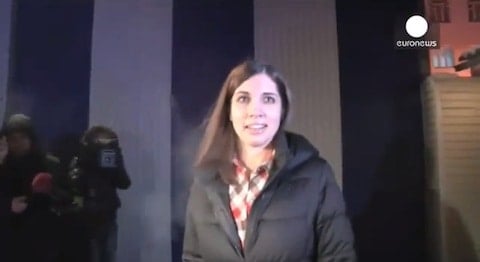 By Dan Peleschuk / GlobalPost
MOSCOW — Two jailed members of the Russian punk group Pussy Riot walked free on Monday as part of a sweeping amnesty apparently aimed at polishing Russia's international image ahead of the 2014 Winter Olympics in Sochi.
Nadezhda Tolokonnikova and Maria Alyokhina, both of whom qualified for the amnesty because they have young children, cast their release as a ploy for good publicity and defiantly vowed to continue their activism.
On Monday evening, 24-year-old Tolokonnikova reportedly left her Siberian prison shouting "Russia without Putin!" — a popular slogan for Russia's street opposition aimed at President Vladimir Putin.
She later told NBC News that their amnesty was a sign of Putin's "weakness" because both women had served most of their two-year sentence and were scheduled for release in March.
"I would see it as a strength if he would free other political prisoners," Tolokonnikova said.
Alyokhina slammed the amnesty's terms, which she claimed left many other imprisoned mothers disenfranchised because they had committed serious crimes.
"I don't consider this amnesty a humanitarian act — I consider it a PR stunt," she told the liberal TV Rain network after her release Monday morning from a prison in Nizhny Novgorod, about 250 miles west of Moscow.
Alyokhina, 25, also said she would have turned down the amnesty if she'd had a choice, claiming that prison officials quickly ferried her out of prison in a move that left her "shocked."
The outspokenness is in stark contrast to last week's release of former oil tycoon Mikhail Khodorkovsky — widely viewed as Russia's most famous political prisoner — who said he would not seek a future in politics.
His pledge probably disappointed at least some members of Russia's scattered street opposition, who have looked to the outspoken Putin critic as a guiding moral force.
Irina Khrunova, the Pussy Riot members' lawyer, told Kommersant FM radio on Monday that both Alyokhina and Tolokonnikova planned to become involved in human rights work.
Opposition-minded observers hailed their release.
Marat Guelman, a prominent gallery owner and culture critic, said the women "showed an example of courage and integrity for us all."
"They have become a symbol of opposition to Putin," he wrote on his blog. "He is a man, they are women; he is gray, they are colorful; he is rich, they are poor; he is old, they are young."
Both women had been behind bars since March 2012, shortly after their profanity-laden performance inside Moscow's main Russian Orthodox cathedral.
Although they claimed their protest was aimed against Putin and the church's influential role in politics, the event provoked an outcry from many conservative and religious Russians who took serious offense.
At the time, critics accused the Kremlin of further exploiting that reaction by consolidating popular support for Putin from among Russia's conservative, working-class population and waging a war against the urban, opposition-minded intelligentsia.
The two women were sentenced in August 2012 to two years in prison for "hooliganism motivated by religious hatred." The case galvanized international criticism of Russia's human rights record and judicial system.
A third member, Ekaterina Samutsevich, was arrested and convicted alongside Tolokonnikova and Alyokhina, but was released several months later on a suspended sentence.
Watch a Euronews report on the release, AFTER THE JUMP…