Politico reports this morning on conflict within the Republican party over backing openly gay candidates, specifically a campaign by Virginia Rep. Randy Forbes (pictured) to block the funding: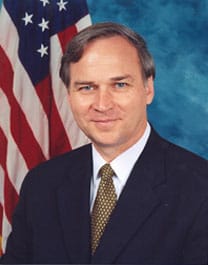 Forbes has waged a lengthy crusade to convince his colleagues and the National Republican Congressional Committee brass they shouldn't back some gay candidates. His efforts on Capitol Hill were described to POLITICO by more than a half-dozen sources with direct knowledge of the talks.
The issue is particularly acute because House Republicans have two promising openly gay candidates in 2014 vying for seats held by Democrats. Richard Tisei, who narrowly lost to Democratic Rep. John Tierney in 2012, is running again in northeastern Massachusetts. And in San Diego, Carl DeMaio, a former city councilman, is trying to knock off Democratic Rep. Scott Peters.
Towleroad obtained this statement from Log Cabin Republican Executive Director Gregory T. Angelo in response to the article: