Sir Richard Branson has written a post on the Virgin website urging companies worldwide to stop doing business with Uganda because of its anti-homosexuality law and points out other countries where such laws exist.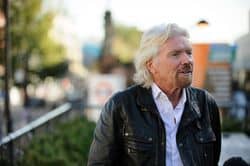 Writes Branson:
Ugandan MPs have passed a new law making homosexuality punishable by life imprisonment. The law also means people who do not report gay people can be sent to prison.
I have been courted by various people and government officials to do business in Uganda. I was seriously considering it.
However, the dreadful witch hunt against the gay community and lifetime sentences means it would be against my conscience to support this country.
I would urge other companies worldwide to follow suit. Uganda must reconsider or find it being ostracised by companies and tourists worldwide.
The Economist published a graphic showing where homosexuality is illegal in 2013, which makes for distressing viewing. More than 80 countries worldwide criminalise homosexuality, with the death penalty in place in five countries and areas of Nigeria and Somalia.
Governments must realise that people should be able to love whoever they want. It is not for any government (or anyone else) to ever make any judgements on people's sexuality. They should instead celebrate when people build loving relationships that strengthen society, no matter who they are.
You may recall that Branson, in 2011, spoke out against a similar anti-homosexuality law in Nigeria.