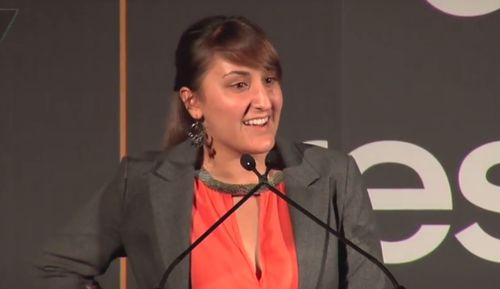 Laila Al-Shamma, a 17-year-old student from Encinitas, California, has been honored with the Gay, Lesbian, and Straight Education Network's 2013 Student Advocate of the Year award, and her story is a rather inspiring one. Al-Shamma came out to her family at the age of 13 but feared the ridicule that awaited should friends, peers, and teachers find out. However, she still got involved with La Costa Canyon High School's Gay-Straight Alliance (GSA) as a straight ally, serving in leadership positions before finally feeling moved to come out in her junior year after another GSA member committed suicide. Al-Shamma reportedly whipped her school's GSA into shape, offering support and services since her freshman year. Now, others are recognizing just how vital her voice has been throughout her high school community.
The San Diego Union-Tribune reports:
"Laila is an inspiring example of how students can positively change their school community for generations to come," said Eliza Byard, GLSEN's executive director. "She has a promising future ahead and I am confident her leadership will continue to inspire those around her."
…
"Growing up, Laila was always taking charge of situations and making things happen," Maria Al-Shamma said. "She likes to solve problems."
Under the teen's guidance, the chapter began posting fliers, holding weekly meetings, working closely with school staff and holding positive campus outreach events. Club membership grew from 5 active members to 30.
Chapter adviser Carissa Mattison said before Al-Shamma came along, the group was a safe hangout for teens but not an active voice for change. Al-Shamma's leadership skills, maturity and approachable personality made all the difference in how the group was perceived by staff and students.
Al-Shamma eventually came out in a column for the school's newspaper.
It was a bold step for Al-Shamma, an active and popular student on campus. The soon-to-graduate senior is the drum major for the school marching band, a trombonist in the pep and jazz bands and a member of the school academic team.
"I thought it was time to show everyone that it's OK to be gay and that being gay doesn't mean you have issues," she said. "I am gay and I take AP classes and I have a lot of friends. I'm just like anyone else."
Al-Shamma said she braced for a backlash after the article was published, but instead received "zero negative feedback." In fact, last month her fellow students voted her homecoming queen.
Congratulations to Laila, and an even bigger extension of praise for the positive communities she, and students like her, are building in schools around the country! 
Watch Al-Shamma's speech at the GLSEN awards gala, AFTER THE JUMP…