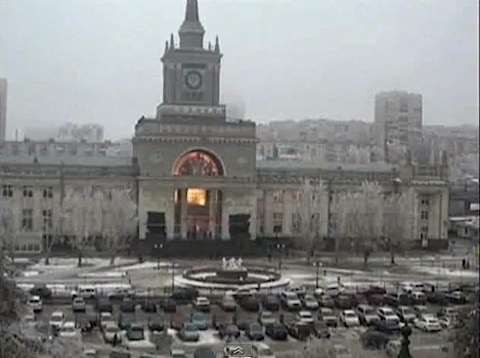 BY SARAH WOLFE / GlobalPost
At least 15 people were killed on Sunday when a female suicide bomber detonated an explosive at a train station in southern Russia, heightening concerns about terrorism ahead of February's Olympic games in Sochi.
At least 50 people were wounded in the second deadly attack in Russia in three days.
The National Anti-Terrorist Committee said the explosion, at the central railway station in the city of Volgograd, was an act of terror and that a criminal investigation had been launched.
TV footage showed a massive orange fireball filling the hall and smoke billowing through shattered windows.
"People were lying on the ground, screaming and asking for help," eyewitness Alexander Koblyakov told Rossiya-24 TV.
No one claimed immediate responsibility for the attack.
On Friday, a car bomb killed three people in the southern Russian city of Pyatigorsk, 170 miles east of Sochi. And in October, another female suicide bomber was blamed for a bus explosion in Volgograd that killed five people.
Sunday's attack was the deadliest in Russia's heartland since January 2011, when Islamist insurgents killed 37 people at a Moscow airport.
Raw video shows the explosion at the train station. Watch, AFTER THE JUMP…