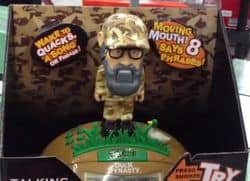 In an odd, disturbing turn of events for the A&E show, a blogger, John Aravosis, from America Blog reported today on a "Duck Dynasty"-themed toy clock which may or may not speak the words, "Heil Hitler." Though the toy's creators likely did not intend for such a snafu, the clock adds a new layer of intrigue to the already hyped story of Phil Robertson's racist and homophobic commentary. 
Aravosis's story illustrates the oddness of the incident best:
In a rather odd trip to Walmart last night (it was mom's idea), my family was in the "holiday" section looking through half-priced Christmas leftovers when my 17 year old nephew walks up holding a "Duck Dynasty 'Si' Clock."  He pushes the button, and asks me what I think it's saying.
I thought he'd asked me "who" it sounded like, and told him I didn't know. No, he said, WHAT's it SAYING?
My mom and my other nephew, before I could even answer, both respond: "Heil Hitler."
Check out a video of the clock and let us know what you think he's saying, AFTER THE JUMP…