Nigeria's Hisbah, or Islamic religious police, have vowed to track down all gays in the country following the signing of an anti-gay law by President Goodluck Jonathan.
AFP reports: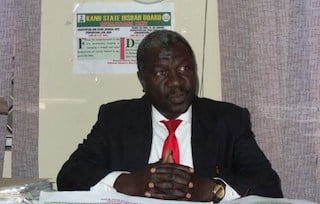 The deputy head of the Hisbah in Kano state, Usman Nabahani (pictured), told AFP that the new law banning gay marriage and civil partnerships was a "welcome development". "Definitely, we will work tirelessly toward the enforcement of this law by the special grace of God," he added…
The Hisbah has in recent months cracked down on prostitution and drug addiction in the majority Muslim city and pledged to do the same against homosexuality.
"Obviously, we will embark on similar raids on gays and lesbians in Kano," he added, vowing to work "hand in hand" with security agencies to enforce the national legislation. "From now on, we will go into every nook and corner of Kano state to ensure that (the prohibition of) prostitution, gay marriages, marriages of the same sex and consumption of alcohol… is fully complied with, so that we can have a decent society….We are given more power, we are given more support now to wage serious war against these issues."
AFP also has some new information on numbers:
Dorothy Aken'ova, the executive director of the International Centre for Reproductive Health and Sexual Rights, added that the police in Bauchi had more than 160 names on a list and were planning arrests.
Since the law was signed, she said 24 people had been arrested in three southern states — 12 in Ibadan, Oyo; six in Owerri, Imo; and six in Awka, the capital of Anambra.
While exact numbers remain indeterminate, reports are emerging that several men are already on trial in the northern state of Bauchi in an Islamic court where they may face a death sentence by stoning.
(image source)
Earlier…
16 Things You Should Know About the Anti-Gay Situation in Nigeria [tlrd]
UN Secretary General Ban Ki-Moon Expresses 'Deep Concern' Over Nigeria [tlrd]
Islamic Court Trial Begins for 11 Suspected Gay Men in Nigeria [tlrd]
Where Anti-Gay Laws are Concerned, Nigeria Is No Russia [tlrd]