Former governor and current Florida gubernatorial candidate and Republican-turned-Democrat Charlie Crist gave an interview this week to Tom Dyer at Watermark Online in which he apologized for anti-gay legislation he has supported in the past and also made some promises for the future.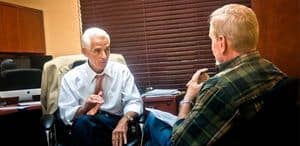 When you first ran for governor in 2006, you said that a ban on same-sex marriage was unnecessary, but then you signed a petition to place Amendment 2 [banning same-sex marriage] on the ballot…
…and I'm sorry. I'm sorry I did that. It was a mistake. I was wrong. Please forgive me.
I appreciate that, but I want to make sure I spell this out in full. After you signed the petition you said Amendment 2 wasn't an issue that moved you, but then you ended up voting for it, saying you believed in it. Just three years ago, when you were running for the Senate as a Republican, you told CNN that you believed that "marriage is a sacred institution between a man and a woman." And just three years ago, when talking about gay adoption, you expressed a belief that traditional families are best…
Tom… I'm sorry. I'm sorry.
Well again, I appreciate that. But I think it's important for you to address this. When you look back at the circumstances, one could come to the conclusion that your shifts in opinion were either politically expedient…
They were. They were. And it was wrong. That's what I'm telling you. And I'm sorry.
Later, Crist made some promises:
What you would do to advance LGBT equality as governor? Rep. Linda Stewart just introduced a bill to create a statewide Domestic Partner Registry. Given the progress made in other states it seems like a small thing, but even that faces many hurdles in the Republican-controlled State Legislature. The Competitive Workforce Act—an employment non-discrimination bill—can't get out of committee. Marriage Equality seems a long way off, unless through some sort of court action. What can you do?
I want to do all those things. It's not complicated. It comes down to one word: fairness. Everybody deserves to be treated fairly.
It must be liberating to be able to speak from your heart, instead of through some political calculus…
It's wonderful! I wish I'd done it 20 years ago! Can't you feel it?
CharlieCrist.com makes no mention of LGBT equality right now. Will that change?
Absolutely!
It won't be sort of a subterranean thing that you trot out for appropriate groups?
Do I look like I'm holding back? We're not underwater with this… we're riding the wave!
Read more of the interview at Watermark…