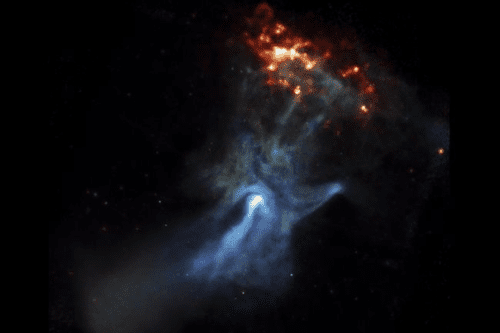 BY SARAH WOLFE / GlobalPost
NASA's Nuclear Spectroscopic Telescope Array released an image of a dead star Friday nicknamed the "Hand of God," renewing debate about religion and astronomy.
It may look like an X-ray from the doctor's office.
But it's actually an enormous cloud of material ejected from a star that exploded an estimated 17,000 light years away.
"We don't know if the hand shape is an optical illusion," McGill University's Hongjun An said in a statement from the Nuclear Spectroscopic Telescope Array (NuSTAR) Mission.
The object is known as a pulsar wind nebula.
Dubbed PSR B1509-58 (B1509 for short), it measures about 12 miles in diameter and spins around at a brisk seven times per second.
As the dead star spins, it spews particles "upheaved during the star's violent death," according to NuSTAR.
One of the big mysteries is whether the pulsar particles are interacting with material ejected from the star in a specific way to make it look like a hand, or if the material is in fact shaped like a hand, NASA said in a statement.
Launched in June 2012, the NuSTAR space telescope is tasked with observing black holes, dead and exploded stars and "other extreme objects," according to NuSTAR.