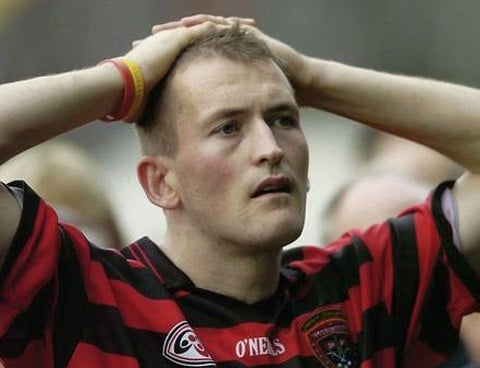 In a lengthy blog post published on Monday, Irish hurler Conor Cusack, came out of the closet. Cusack played the Gaelic sport of hurling with the Cork senior inter-county team in 2006 and now plays with the local club in Cloyne. He has made national headlines in Ireland for his devotion to helping others battle depression, which he has battled his whole life.
Cusack writes, in part:
I've known for a good while now that I have been sexually attracted to men. In that time, I've had relationships with women, and enjoyed them immensely but I've always had more fulfilment from being with a man. I'm not sure what label society would categorise me under. I remember a doctor one time telling me I was a bi-polar depressive and a different guy a few weeks later telling me I was a manic depressive. Go figure that one out! Life for me is never black or white (though I know a lot about the blackness) but more about different shades of grey….
…I have been comfortable with this area of my life and I never felt the need to discuss it with anyone. That is until recently. As I crossed the border from Galway into Clare and then back home to Cork and through the towns of Buttevant, Charleville and Mallow, I thought strongly about the current Mental Health work I am involved with. I thought about all the different people that I have spoken to and about all the upcoming events that I have committed to. I asked myself the question 'Do I need to talk and discuss this aspect and area of my life?
Cusack is the brother of hurler Donal Og Cusack, who came out as gay in 2009.