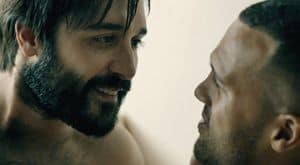 Reality may be Looking's strength, but its ordinariness is also its weakness. The first four episodes drag on without any real gasp-inducing or even laugh-out-loud moments. While Weekend's whirlwind romance unfolded over a compressed time frame, stretching out a similarly understated story into an ongoing series loses a lot of the electricity that made the film so compelling. Sure, getting such true-to-life gay stories in front of such a wide audience (as opposed to Weekend's indie crowd) is an undeniable feather in this series' cap, but it needs to raise the stakes a bit to sustain interest week to week. Just a little outrageousness would go a long way. 
Despite the lack of drama, there is a charm here that makes me want to keep watching. The chemistry that permeates the friendly (and more-than-friendly) characters only amplifies the series' authenticity. When Dom (Murray Bartlett), Agustín (Frankie J. Alvarez) and Patrick (Glee's Jonathan Groff) share a scene, their ease and warmth together radiate from the screen. The way Agustín puts his feet up on Patrick, or how Patrick and Dom throw their arms around each other while walking around the city just feels so natural. You want to invest in these guys, because they seem so genuinely invested in one another.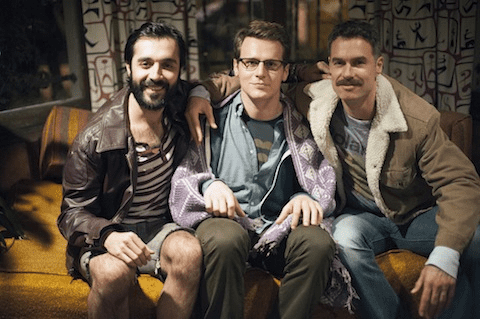 The most persuasive argument to stick with Looking is the show's choice to smartly establish each of its leads at the threshold of change. Patrick is rapidly approaching the end of his 20s and ready to embark on a real, adult relationship (or at least figure out what that means); Dom, on the cusp of 40, is confronting his waning desirability; and Agustín is figuring out what it means to settle down. While these characters are sorting out their own evolution, the culture around them is also in the throes of change as well. These guys are finding themselves as the gay community (and society as a whole) is redefining the gay experience (through things like increased acceptance, marriage equality and the impact of technology on sex and dating — elements touched on by the series). 
The potential for stories to emerge from all this personal and cultural upheaval is exciting. Even if Point A for these characters isn't thrilling yet, it's clear this is still just the beginning of their journeys. 
Considering the transformative experience Weekend gave us in just about 48 hours, that's reason enough to stick around.
Will you be tuning in for Looking's premiere Sunday at 10:30 p.m. on HBO?
(photos: David Moir – HBO)