Luxembourg, the tiny Grand Duchy sandwiched between Germany, Belgium, and France which just swore in an openly gay Prime Minister, looks likely to approve marriage equality by the end of 2014, Wort.Lu reports: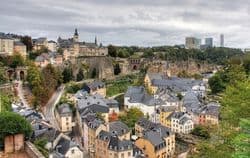 Luxembourg Justice Minister Félix Braz announced on Wednesday that the government would vote on the bill this summer and, if approved, it could mean wedding bells for same sex couples before the end of the year.
The Grand Duchy's Lesbian, Gay, Bisexual and Transgender (LGBT) community welcomed the news.
"We're very happy about this decision of the new government. We thought initially it could be re-filed again for another couples of months or even years, due to the fact that it might be that the government judges other points on the political agenda more important than this law, " said LGBT Rosa Lëtzebuerg Asbl president, Gabriele Schneider, adding: "We are indeed very happy to see that it is one of the important points on the agenda of the government continuing working on the law and vote all the necessary steps to have filed it during the year 2014.