Rep. Michael Grimm (R-NY) who represents Staten Island and parts of Brooklyn, has become the sixth House Republican to co-sponor the Employment Non-Discrimination Act, The Washington Blade reports: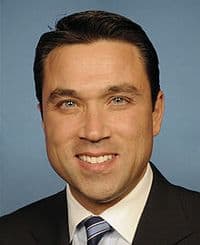 Rep. Jared Polis (D-Colo.), who's gay and lead sponsor of ENDA, commended Grimm for supporting the bill, which would bar employers from discriminating against or firing workers based on their sexual orientation or gender identity.
"I am happy to welcome Rep. Grimm as the 200th cosponsor of the bipartisan Employment Non-Discrimination Act," Polis said. "This is common sense legislation that is supported by a majority of Americans and was passed overwhelmingly by the United States Senate. I look forward to working with Rep. Grimm and all of the co-sponsors on both sides of the aisle to pass this bill and protect all Americans from discrimination in the work place."
Grimm's office didn't immediately respond to the Blade's request to comment on the New York Republican's decision to sign on as an ENDA supporter. 
Legislative director for Freedom to Work Christian Berle praised Grimm's decision, saying:
"We applaud Congressman Grimm for joining the growing number of Republicans supporting LGBT workplace protections, Freedom to Work along with Log Cabin Republicans have been lobbying broadly within the House GOP Conference and we hope to build momentum with more ENDA supporters in the weeks and months to come," Berle said.
Grimm joins five other Republican co-sponsors: Reps. Ileana Ros-Lehtinen (R-Fla.), Richard Hanna (R-N.Y.), Charles Dent (R-Pa.), Jon Runyan (R-N.J.) and Chris Gibson (R-N.Y.). Counting Polis as lead sponsor, the bill is still 17 votes short of passage in the House.
Even as the votes begin lining up, however, House Speaker John Boehner has remained steadfast in his opposition to even bringing the legislation up for a vote.