Earlier this year we reported that Senator Marco Rubio was holding up the confirmation of Judge William Thomas to the Federal District Court for the Southern District of Florida. Thomas serves on the Miami Dade Circuit and was nominated more than a year ago.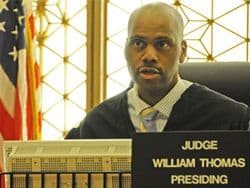 In September, Rubio withdrew his support for the nomination. Rubio said he withdrew his support because of Thomas's actions in two criminal cases, and without Rubio's support the nomination was dead. Florida's other Senator, Bill Nelson, had given his full approval. Supporters of Thomas believed Rubioblocked the nomination for political reasons.
Yesterday, news came that Rubio had succeeded in thwarting Thomas's nomination.
A White House official confirmed for the Washington Blade that Thomas wasn't resubmitted.
"The nomination of Judge William Thomas was returned by the Senate and Sen. Rubio has made his objection clear, so the president chose not to renominate him," the official said.
Had Thomas been confirmed by the Senate, he would have been the first openly gay black male to sit on the federal bench. (Deborah Batts, confirmed to the federal bench in 1994 and the first-ever out person to sit on the federal judiciary, is also black.)