Back in August, Russian President Vladimir Putin announced a sweeping ban on all protests rallies, meetings, and demonstrations before and during the Sochi Olympic Games.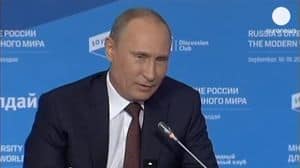 Today, he announced a new order, published on the Kremlin website, lifting the ban but setting limitations on the location and regulations for such gatherings, which would need approval in advance, the NYT reports:
It follows the amnesty of some of the country's most prominent prisoners, including the tycoon Mikhail B. Khodorkovsky, two performers from Pussy Riot and 30 activists from Greenpeace….
Saturday's announcement formalized plans that had already been in the works to allow approved protests at a park in a region called Khosta, about halfway between the center of Sochi and the region of Adler, where the main Olympic Village is…
…Tanya Lokhina, the director in Russia for Human Rights Watch, said on Saturday that the easing of the ban was part of Russia's "efforts to convince critics that it's a democracy where freedom of expression is respected within reasonable limits."
"I suggest they shouldn't let themselves be convinced that easily," she said.
Authorities are also stepping up security efforts in the wake of several suicide bombings in southern Russia.