Tiny church is haven for LGBTs in Uganda.

How Russian anti-gay vigilantes are using Facebook and Instagram.

Bozeman, Montana inches toward adopting LGBT non-discrimination law.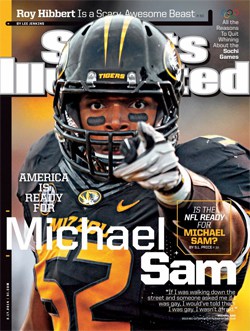 Michael Sam to grace cover of Sports Illustrated this week.

VIDEO: KTLA entertainment reporter Sam Rubin gets an earful after mistaking Samuel L. Jackson for Laurence Fishburne.

Harvey Weinstein pays $7 million for Alan Turing WWII tale The Imitation Game: "CAA brokered this deal based on a promo reel that had five bidders going after it hard before TWC just took it off the table, with the feeling that it has one of its major Oscar hopefuls for the next race."

Trayvon Martin killer George Zimmerman is still going to get "bloody" in the ring but it won't be with a celebrity opponent.

Rep. Phil Roe (R-TN) on his party: "I would suggest, when we nominate people, we give them a roll of duct tape to put over their mouths so they don't say stupid things. Maybe we can win an election."

Adam LAmbert and Darren Criss perform at Family Equality Council dinner.

Ricky Martin shoots "Adrenaline" video, looks stunning while doing so.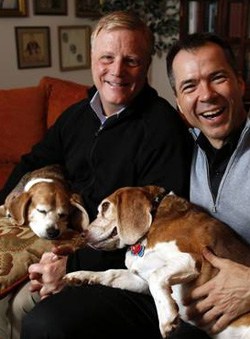 Mark Pharris, and Victor Holmes, the two men at the center of the Texas gay marriage case that opens Wednesday: "The suit is asking the court to immediately block sections of the Texas Constitution and Texas law that prohibit same-sex marriages and refuse to recognize such marriages performed in other states."

Pennsylvania student seeks approval for Gay-Straight Alliance in Grove City: "People call me … I don't like to say the word, but it starts with an 'f.' Recently I sat at the school table for lunch and they use that word negatively towards me. I recently moved tables, and the fact that people say that's not happening is really hurtful because it does."

Second Nebraska county extends health benefits to gay spouses: "Although Sarpy County HR Director Karen Buche estimated that 10 or fewer employees of 450 covered county emplyees would use the benefits, board members Don Kelly and Jim Warren nevertheless voted against extending the benefits."

One Direction reality show in the pipeline.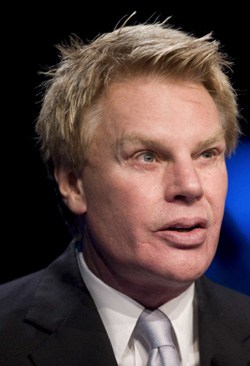 NY Mag on the fall of Abercrombie: "Above all, Jeffries, who was once married but is now openly gay, sought to sell an image of American beefcake sexuality as he saw it: a world of hairless, amply muscled men tussling in a pastoral Eden. That this world was so highly homoeroticized—the roughhousing in the catalogues seemed perpetually on the point of turning into a full-on orgy—is one of the most poignant ironies of his success. He was persuading straight jock teenagers to buy into a gay man's fantasy of a jock utopia."
L

upita Nyong'o, stunning again.

Will Michael Sam's coming out compel a current NFL player to do the same before he gets there? "Chances are high there is a star-caliber closeted NFL player watching Sam's story unfold with a mixture of admiration and jealously. Gay athletes have just as big of egos as straight ones, and NFL veterans risk a lot to earn and keep jobs in their industry….Now that Sam has shown that on the whole society is warm to the idea of a gay NFL player, it doesn't make sense that someone of Aaron Rodgers's stature would voluntarily relinquish a form of immortality to some unproven pup."