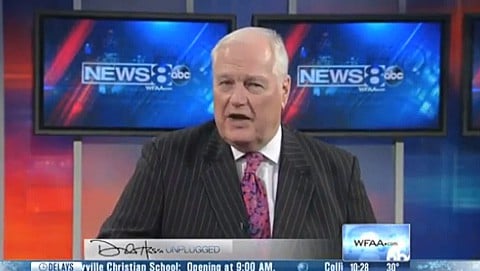 Dale Hansen, the weeknight sports anchor on Dallas-Fort Worth's WFAA, had something to say to the anonymous NFL execs that were quoted in Sports Ilustrated's shamefully-executed follow-up to the Michael Sam news.
Said Hansen in a special 'unplugged' commentary:
You beat a woman and drag her down a flight of stairs, pulling her hair out by the roots? You're the fourth guy taken in the NFL draft.
You kill people while driving drunk? That guy's welcome.
Players caught in hotel rooms with illegal drugs and prostitutes? We know they're welcome.
Players accused of rape and pay the woman to go away?
You lie to police trying to cover up a murder? We're comfortable with that.
You love another man? Well, now you've gone too far!
Watch Hansen let 'em have it, AFTER THE JUMP…