The Kansas Federal and State Affairs Committee has advanced to the full House a bill that would allow religion-based discrimination against gay married couples, the AP reports: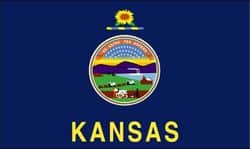 Kansas law already protects employees from being sanctioned based on religious beliefs, but supporters of House Bill 2453 said more is necessary to protect religious freedom.
The bill says governmental entities cannot require individuals, businesses or religious groups to provide services, facilities, goods or employment benefits related to any marriage or domestic partnership. It also prohibits anti-discrimination lawsuits on such grounds.
Critics say the measure promotes discrimination against gays and lesbians and encourages government officials to ignore court rulings favoring gay marriage.