More than a year ago, Obama nominated Judge William Thomas to the Federal District Cour for the Southern District of Florida. Thomas would have been the first gay black judge on the federal bench had it not been for Senator Marco Rubio (R-FL) who succeeded in blocking the Thomas nomination for political reasons.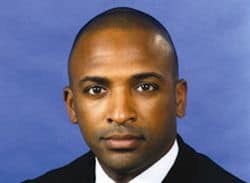 Now, Obama has nominated a second out gay African-American judge to the federal bench.
Gayles' background, via the White House:
Judge Darrin P. Gayles has served as a Circuit Judge in the Eleventh Judicial Circuit of Florida since 2011.  From 2004 to 2011, he was a County Judge in the same Circuit.  From 1999 to 2004, Judge Gayles served as an Assistant United States Attorney for the Southern District of Florida, and from 1997 to 1999, he served as an Assistant District Counsel at the United States Immigration and Naturalization Service.  Judge Gayles began his legal career as an Assistant State Attorney in the Miami-Dade State Attorney's Office from 1993 to 1997.  Judge Gayles received his J.D. in 1993 from George Washington University Law School and his B.A. in 1990 from Howard University. 
Gayles was endored by the Gay & Lesbian Victory Fund for his reelection in 2012, according to MetroWeekly.
If confirmed, Gayles, much like Thomas before him, would become the first out black man in the nation's history to serve on the federal bench. He would also be the second out African-American to serve as a federal judge. The first, Deborah Batts, was appointed to the District Court for the Southern District of New York by President Bill Clinton in 1994. Gayles was nominated today along with three other Florida judges to serve on U.S. District Courts.
Rubio does not take issue with any in the latest round of nominees, according to a statement.