Antonin Scalia has seen the future, and its name is marriage equality.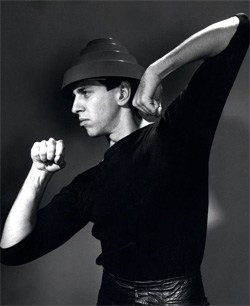 Original Devo member Bob Casale dies at 61 from heart failure.

Miley Cyrus nibbles on fan's thong.

Duck Dynasty's Willie Robertson tries to impress with $5,000 tip after dining at restaurant with Sean Hannity, Ted Cruz, and Newt and Callista Gingrich.

Nigerian hotel restaurant serving human meat: "A Pastor who was among the people who tipped off the police on Thursday said: 'I went to the hotel early this year, after eating, I was told that a lump of meat was being sold at N700, I was surprised. So I did not know it was human meat that I ate at such expensive price.'"

Barbara Walters named her vibrator "Selfie".

Back to the Future: Nike designer promises self-lacing shoes.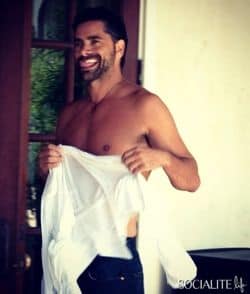 John Stamos Twitter-lickin' good.

Tom Hardy brought his beard to the BAFTAs.

Jennifer Nettles talks to PrideSource: "Within the gay community, the courage it takes to be one's authentic self – even if you're viewed as different – is inspiring. Consequently there is definitely a connection in that degree of authenticity – and doing it because you gotta be who you are – that connects my music with the gay community."

GOP Congressman Jim Bridenstine stands by while Tea Party supporter calls for Obama's assassination.

Russia, post-Sochi: "Konstantin Yablotskiy, president of the Russian LGBT Sport Federation in Moscow, had hoped activists would be able to sponsor a "pride house" in Sochi, where gay visitors would find a welcome. The Vancouver Winter Olympics had one. "Registration was denied here," he said. 'No, nothing has changed because of the Olympics,' he said. 'What will happen after the Olympics, we'll see. People are very frightened. Many LGBT people think the situation will be worse after the Olympics. There is a panic in the community, especially among those who are partly or almost out, those who are active.' Their fate, he said, now lies with the larger world. 'Don't stop paying attention to us after the Olympics," he said. "What happens depends on you."

How a 'scientific statement' convinced Uganda's president to sign the anti-homosexuality bill.

NOM endorses Pastor Mark Harris for U.S. Senate.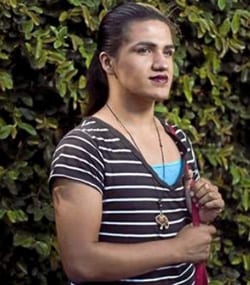 17-year-old Pat Cordova-Goff, a senior at Azusa high school in California, shows what being an honor student is all about: "She is a member of the cheer squad and is Azusa High School's student body president with a 4.0 grade average. Pat is also the founder of Azusa's Gay Straight Alliance. She is now on her way to be the state's first transgender student to play high school softball on a girl's team."

Candy Crush Saga maker King files for IPO: "King's filing reveals the Candy Crush effect in stark detail: in 2012 the company's revenues were $164.4m and its net profit $7.8m, but in 2013 those figures rose to $1.88bn and $567.6m respectively."

Tyler Curry believes gay rights and trans rights should be separated: "Although the discrimination against trans people by the gay community is unintentional, it is the reason the "T" should be removed from the LGBT. Gay men often use the slur because they believe it's a part of their collective community vocabulary. Just as we take liberties by using our own gay slurs as we chose, we mistakenly use the slurs aimed at trans people and whose objections are brushed off as political sensitivity."