NFL free agent Kerry Rhodes addressed rumors he is gay in two separate interview sessions this week. The first was with ESPN and Rhodes denies he was blacklisted after rumors began circulating last year that he was in a relationship with his male assistant, supported by affectionate photos of the two of them together: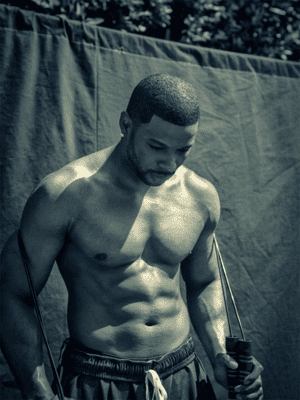 "I don't think I was blacklisted," Rhodes said during a phone interview Tuesday. "Especially with the NFL I don't think they would do that … to me it was a product of me wanting to do other things and not finding the right opportunity."
As the NFL is about to welcome the first openly gay player in Michael Sam, who will enter the NFL draft this season, many assume Rhodes had not been offered a job after a former associate told a number of websites that Rhodes was gay. Some speculated that Rhodes wouldn't feel comfortable coming out, but Rhodes said that has never been the case.
"I emphatically said no once and that's all I need to say and people who know me know that's definitely not the case," Rhodes said. "To me I'm definitely not and I can't control what people think, so I move on."
Rhodes also commented on the league's would-be first gay player Michael Sam:
Rhodes said he thinks Sam will have to prove himself, just like every rookie does, in order to be accepted.
"Not just him being Michael Sam the gay player, with his sexuality being at the forefront," Rhodes said. "But accepting him as him as a man and as a player."
Sam's teammates may face more scrutiny, but Rhodes doesn't expect that the locker room will need to change to accommodate the first openly gay player.
"I don't think the locker room will change," Rhodes said. "I think they will be more cognizant of it, it's such a big deal right now. I think they'll try to police it a little more but I don't think the locker room will change. Every locker room has a different dynamic."
Rhodes again addressed the rumors (a popular topic) in an AMA on Deadspin yesterday:
Questioner Sam G: "Are you kind of peeved that everyone assumed you were gay, or at least closeted, after the reports from your assistant? It seems like the media kind of jumped on that story quickly and the narrative became one of a talented corner being blacklisted because he's gay, regardless of your comments on the subject. Personally, I think this stems from people wanting to see an openly gay player in the NFL because it would be a very public step in the equal rights movement, and would be a pretty big deal for gay folks in athletics everywhere."
Rhodes: "Great question. I agree with you in the sense that the media and or blogs are way too quick to report a story without investigating what is really going on first."
Rhodes was also asked if he thinks there's something wrong with being gay since he declined to make a "not that there's anything wrong with that" statement in the ESPN interview.
Said Rhodes: "I have friends from various backgrounds. Of course there is nothing wrong with being gay."
Rhodes also answered "yes" when asked if he's tired of the gay discussion.
(image via hunk du jour)