Police found 50 bags containing what is suspected of containing heroin, bottles of prescription pills, and more than 20 used syringes in Philip Seymour Hoffman's apartment following the actor's untimely death at 46, CNN reports: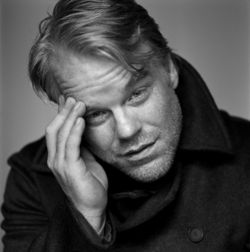 The Oscar-winning actor was last seen alive at 8 p.m. Saturday, a law enforcement official said.
He was expected to get his children on Sunday, but didn't show up, the official said. Playwright David Katz and another person went to the apartment and found him dead, the official said. A needle was in the actor's left arm, and eight empty glassine-type bags that usually contain heroin were found in the apartment, law enforcement sources told CNN. The bags were stamped with "Ace of Hearts" and "Ace of Spades" — street names for heroin, the sources said.
Meanwhile, TMZ reports that one of the "operating theories" is related to a particularly deadly strain of the drug:
Authorities have been tracking a strain of heroin that has killed dozens of people on the East Coast — just last month.  The heroin is laced with fentanyl, an extremely potent drug prescribed for terminal cancer patients.  The strain is 100 times more powerful than morphine … it sometimes shuts down the respiratory system.
The drug — sometimes called "Theraflu," "Bud Ice" and "24K" — has been linked to 5 deaths on Long Island, 22 deaths in Pennsylvania and 19 on Rhode Island — all in January.
There is also allegedly a videotape of a drug deal.