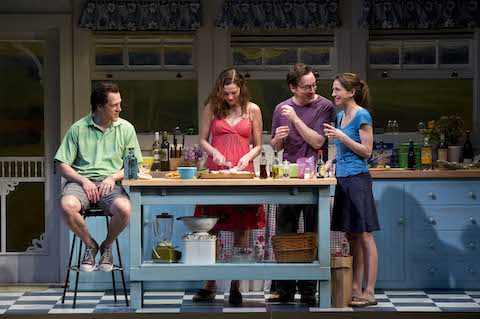 BY NAVEEN KUMAR
You don't have to be married (or straight) to appreciate the compelling insights into intimacy and all manner of relationships revealed by Donald Margulies in his 2000 Pulitzer Prize winning play Dinner With Friends, which opened Off Broadway last night in a revival at Roundabout Theatre Company's Laura Pels Theatre.
In fact, anyone in a rush to reach the altar might do well to consider Margulies' provocative questions about the coveted social institution. Nearly 15 years after its New York premiere, the play takes on a sort of fresh relevance given marriage is a novel (and hard won) right for a growing segment of the population.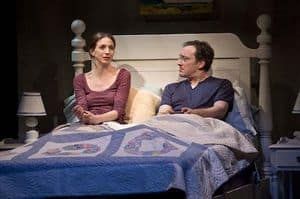 For the two couples on stage, marriage is not so much a choice as a matter of course—which is perhaps part of the problem. The play opens with Gabe (Jeremy Shamos) and Karen (Marin Hinkle), an almost gratingly perfect couple, tripping to finish each other's sentences while describing a recent dream trip to Rome for their distracted friend and dinner guest Beth (Heather Burns).
The meal has just been cleared (Gabe and Karen aren't just foodies, they're food writers), the kids are upstairs with ice cream and a movie, when Beth finally spills a confession—her husband Tom (Darren Pettie) is leaving her for another woman. Beth and Tom aren't just their best friends; Gabe and Karen set them up 12 years earlier (a scene we'll see later), so the news strikes a particular blow. 
What follows is the swift unraveling of one relationship and a slow burning, penetrating examination of another. More than the minutia of what makes some relationships succeed or fail, Margulies uncovers the subconscious roles in which we cast friends and loved ones in the interest of self-preservation.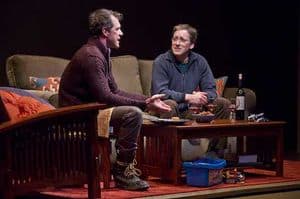 Gabe was counting on Tom to be his partner in expanding waistlines and matrimonial bellyaching. Karen counts on Beth to be a mess she can help clean up. Any shift in these roles feels like a free fall, raising unnerving questions about their own life choices that Gabe and Karen seem at a loss to answer.
Direction by Pam MacKinnon (Tony winner for Who's Afraid of Virginia Woolf?), though markedly staid in physical action, brings out fine performances from the cast of four. Shamos (The Assembled Parties) is a particular standout, his affluent New England intellectual the perfect blend of undisclosed yearning and neurotic ennui.
Scenic design by Allen Moyer emphasizes the beige of middle age with blank canvas walls, which fill with vibrant color for the play's single flashback to Martha's Vineyard, where newly wed Gabe and Karen introduce their ill-fated friends. Though fitting, the broad-stroaked design is hardly necessary, the play's subtle brilliance speaks clearly on its own.
Recent theatre features…
Drag Impresario Charles Busch Dolls Up For 'The Tribute Artist': INTERVIEW
'Beautiful: The Carole King Musical' Opens On Broadway: REVIEW
Towleroad's Top Ten Best Plays and Musicals of 2013
Ethan Hawke Stars In 'Macbeth' on Broadway: REVIEW 
Sarah Jessica Parker and Blythe Danner Open Off Broadway In 'The Commons of Pensacola': REVIEW  
Follow Naveen Kumar on Twitter: @Mr_NaveenKumar (photos: jeremy daniel)