The ACLU has filed suit in Florida on behalf of eight same-sex couples and the LGBT rights organization SAVE seeking recognition of the couples' marriages, which were performed out of state: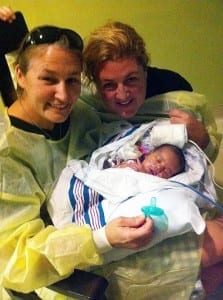 One of the couples — Sloan Grimsley, a firefighter from Palm Beach Gardens, and her wife Joyce Albu, a consultant assisting parents of children living with developmental disorders — are seeking protections for their children, the youngest of whom is two years old. Sloan and Joyce have been together for 9 years and were married in August of 2011 in New York. The couple is concerned that if something were to happen to Sloan in the line of duty, Joyce would not receive the support the State offers to spouses of first responders who make the ultimate sacrifice, and thus, would struggle to provide for their family's needs.
"I'm proud of the work that I do protecting my community, but the law in Florida doesn't let me protect my own family," stated Grimsley. "We just want the peace of mind of knowing that those vows we took to care for one another aren't dependent on where we are."
Seven other couples are also being represented:
Lindsay Myers, a radio digital content producer, and her wife Sarah Humlie, the Executive Director of the Pensacola Humane Society; Chuck Hunziger and Bob Collier, both military veterans, who have been together for more than 50 years and live in Fort Lauderdale; Juan Del Hierro, the Director of Ministry Empowerment for Unity on the Bay, and Thomas Gantt, Jr., a teacher, who live in Miami and have a 14 month-old son; Christian Ulvert, a political consultant, and Carlos Andrade, a media director, who married in Washington, DC in 2013 and are interested in raising a family; Richard Milstein, a family law attorney, and Eric Hankin, a Miami public school teacher, who have been together 12 years; Robert Loupo, a Miami-Dade Public Schools counselor, and John Fitzgerald, retired, who have been together 12 years; and Sandra Jean Newson, a vice president at an agency that works to provide housing for formerly-homeless individuals, and Denise Hueso, a clinical care coordinator at the Alliance for GLBTQ Youth, who have a 15-year-old adopted child.
Read the complaint here.