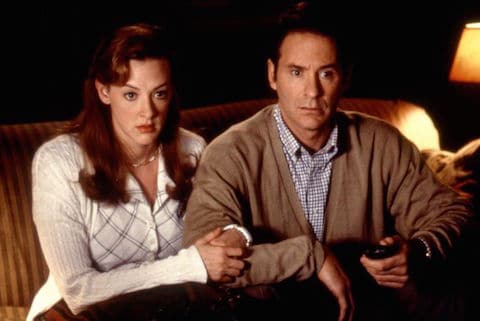 Looking for something to stream while you Netflix and chill? Check out our picks for new additions to streaming services this month below, including In & Out, Me Him Her and Elaine Stritch: Shoot Me.
Portrait of a Serial Monogamist (2015), Available on Netflix June 1
That old joke about lesbians bringing a U-Haul to a second date gets a fresh spin in this whip-smart comedy. A forty-something lesbian re-examines her romantic history after dumping her longtime partner and pursuing a younger woman.
Tab Hunter Confidential (2015), Available on Netflix June 1
Before Abercrombie and Zac Efron, there was Tab Hunter. The former heartthrob opens up about his life inside and out of the closet in this documentary, along with commentary from George Takei, John Waters, Portia de Rossi and more.
In & Out (1997), Available on Hulu and Amazon Prime June 1
For a mainstream comedy, In & Out is worth some praise. First, it's got the always wonderful Joan Cusack (who earned an Academy Award nom for this role). It also boldly put a Midwestern gay story on big screens, including a kiss with paragon of machismo Tom Selleck. Sure it leverages a truckload of gay stereotypes, but do you have any idea how many times I've seen Funny Lady? There's no denying there's some truth there.
The Rules of Attraction (2002), Available on Hulu and Amazon Prime June 3
The sexually-charged exploits of the young, privileged and horny are brought to electrifying light in this film based on the novel by Bret Easton Ellis. The smoldering Ian Somerhalder plays a bisexual with a crush on James Van Der Beek.
Me Him Her (2016), Available on Netflix June 11
A rambunctious bro comes to the aid of his best friend, a Hollywood actor struggling with revealing his sexuality in this film. While in Los Angeles, the bro ends up in a messy romantic tangle with a recently single lesbian.
The Boy Next Door, Available on HBO June 15
Gay icons Jennifer Lopez and Kristin Chenoweth star in this by-the-numbers sexy thriller in the same vein as Marky-Mark and Reese Witherspoon's '90s stalker horror classic, Fear. It's good, brainless, summer fun when J. Lo's dalliance with the titular steamy neighbor takes a dark turn.
Naz & Maalik (2015), Available on Netflix June 15
A refreshing drama with a young, black, Muslim, same-sex couple at its center. A pair of powerful performances from the films' leads make this a must-watch.
Addicted to Fresno (2016), Available on Hulu June 15
From the same director as But I'm A Cheerleader, this dark comedy brings together funny ladies like Judy Greer, Natasha Lyonne, Jessica St. Clair, Molly Shannon and Aubrey Plaza in a tale about a recovering sex addict (Greer) who gets a job with her sister (Lyonne).
Elaine Stritch: Shoot Me (2013), Available On Hulu June 24
Everybody rise for this exceptional documentary about an iconic actress who left an indelible mark on history, from Broadway to 30 Rock. Watch the outspoken octogenarian in her full glory as cameras captures some of her final years and celebrate her legacy.
Maze Runner: The Scorch Trials (2015), Available on HBO June 25
If you ever wished The Hunger Games was a little more like a dystopian Hollister ad, give this series a try, starring Teen Wolf's Dylan O'Brien.
What's on your streaming queue this month?