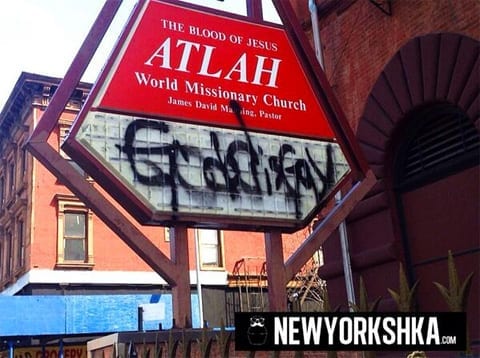 (twitter Newyorkshka)
That ATLAH World Missionary Church in NYC's Harlem neighborhood, which has made headlines recently for its anti-gay church signs, was vandalized on Saturday, tagged with the phrase 'God is Gay', the NYDN reports: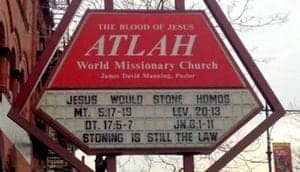 A male suspect is being sought for spray-painting the retaliatory message on both sides of the sign outside the ATLAH World Missionary Church on W. 123rd St. near Lenox Ave., police said Sunday. The vandal struck early Saturday.
Pastor James David Manning in the past has used the sign to display messages such as "Jesus would stone homos" and "Harlem is a homo-free zone."
Manning lashed out at the vandal when reached by the Daily News on Sunday.
"Gay people are just outright bullies," he said. "I expected them to act in a very violent way."
The NYDN published a surveillance photo of the vandal (see below).
You may have missed…
Harlem Pastor Defends Stance Of Stoning Gays: VIDEO
Lesbian Requests Stoning At Harlem Church with 'Jesus Would Stone Homos' Sign: VIDEO
NYC Pastor: 'Jesus Would Stone Homos' — VIDEO
Harlem Pastor: Obama Behind Plot to Unleash Gay 'Homo' Demons on Black Men — VIDEO