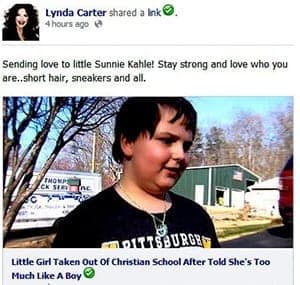 Wonder Woman Lynda Carter sends some love to Virginia girl who was sent home by her Christian school for not acting girly enough: "Sending love to little Sunnie Kahle! Stay strong and love who you are..short hair, sneakers and all."

Danish Zoo that killed off baby giraffe now kills 4 lions: "The Copenhagen Zoo, which generated global outrage last month when it killed a healthy 18-month-old giraffe named Marius, said it had to euthanize four lions this week to clear the path for a newly arrived young male lion. The zoo's decision created abacklash on social media on Wednesday, with some calling the zoo's staff members "serial killers" and "murderers." The zoo justified the killings of the two parents, ages 14 and 16, and their cubs on the grounds of genetic purity and conservation, noting that the new lion would invariably prey on the cubs, while there was a risk that the older male lion would try to breed with one of the female lions that were his offspring."

Mindy Kaling to Vogue: "I don't want to be skinny."

Lindsay Lohan cops to her sex list. 

Meanwhile, Nick Cannon dishes his own past sexploits before he met wife Mariah.

Emma Stone apparently approves of boyfriend Andrew Garfield's spidey package: "It takes a lot of consideration because you don't want it to be overwhelming and also you don't want it to be underwhelming. You don't want it to intimidate and you don't want it to the opposite of intimidate," Andrew said. "I had one focus group [check it out] and that focus group was Emma. She approved."

Zac Efron's bodyguard claims Efron was a 'hero' who saved his life in the late night altercation that ensued between him and three homeless men in downtown LA.

Is consciously uncoupled Chris Martin dating Alexa Chung?

George Clooney has a new gal.

James van der Beek gave Justin Timberlake his ID so he could get into clubs while still underage.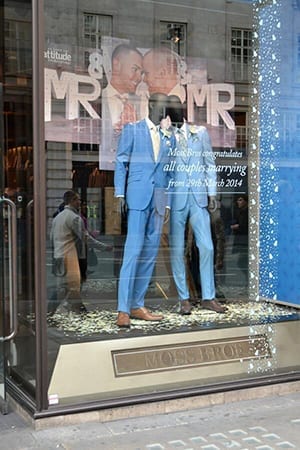 Love is in the air in Britain.

Beaked whale sets new diving record, reach depth of nearly 2 miles beneath the Ocean's surface: "To survive the immense pressure changes it faces as it moves down the water column, Cuvier's beaked whales have evolved lungs and a trachea that collapse completely in the depths of the ocean and then pop back open as the whale moves to the surface to breathe."

Is the five second rule real?

Taco Bell's breakfast menu will come to Canada when Canada agrees to take back Bieber.

Pinterest hacked, users flooded with butt pics. 

New exhibit of awkward family photos opens today at the California Heritage Museum.

Cameron Diaz says all women are attracted to other women at somepoint: "I think women are beautiful – absolutely beautiful. And I think that all women have been sexually attracted to another woman at some point. It's natural to have a connectivity and an appreciation for the beauty of other women."

These reunions always looked scary. 

Does this ancient tablet tell the story of Noah?

Cover art revealed for new Game of Thrones book. You can read a sample of the new book as well.

Circumcision foes (aka "intactivists") protest at White House.