BY NAVEEN KUMAR
While you're likely to fall for an oft-shirtless and doggedly charming Andy Karl in the title role, little else about Rocky, which opened on Broadway March 13 at the Winter Garden theatre, packs too hard a punch. Based on the 1976 film about an underdog boxer given the shot at a world championship, the musical is given a massive and often impressive physical production that dwarfs its decidedly simplistic plot.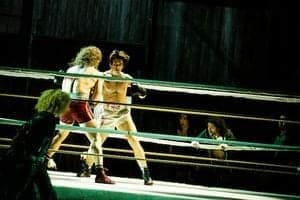 Those familiar with the movie written by and starring Sylvester Stallone (who also had a hand in writing the musical), will find the story mostly unaltered. Well past his prime sparring years at the age of 29, Rocky Balboa throws minor punches at a local Philly gym, where he also works as hired brawn for the loan shark who runs the joint.
Rocky's got his eye on Adrian (Margo Seibert), the impossibly shy sister of his mercurial pal Paulie (Danny Mastrogiorgio), and he woos her with the relentless affection of an attention-starved mutt. When one opponent drops out of a world championship match rolling through town, Rocky is surreptitiously chosen to step in. Rocky gets the girl, trains for the fight, "goes the distance" in the ring and howls "Adrian!" with his eyes swollen shut at evening's end.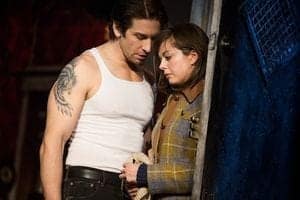 Scripted scenes by Thomas Meehan (Hairspray, The Producers) and Stallone are a pastiche of well-worn movie and musical clichés. Despite the best efforts of a mostly talented company, the writing lends precious little shading to an unwaveringly straightforward story. ("Hey, Adrian, I'm no thug. No way. I always try to be, ya know, a good person.")
Music and lyrics by Stephen Flaherty and Lynn Ahrens, longtime collaborators best known for their score of Ragtime, are similarly facile and mostly forgettable, except at their most inane—as in a second act duet between the lovers. ("I'm looking for words, but how do they go, it's something like… I don't know… happiness.")
Yet, the courtship between Rocky and Adrian, while relatively free of conflict, is undoubtedly the most engaging bit of the stage adaptation. First-date ice-skating is as potent a recipe for love as it was four decades ago, and Karl and Seibert make a winning pair of erstwhile outcasts.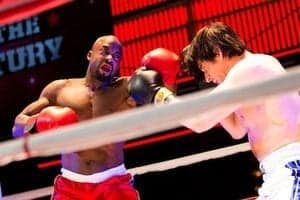 Director Alex Timbers (Peter and the Starcatcher, Here Lies Love), known for his cheeky sensibility and artful imagination, is surprisingly earnest here. While he makes appropriately elaborate use of a big budget (the prize match, with choreography by Steven Hoggett and Kelly Devine, really is a sight), his production rests more comfortably on the nose than tongue-in-cheek.
The musical arrives on Broadway following a 2012 German language production (translated from the English), still doing big bucks in Hamburg. Something about Rocky: Das Musical inspires greater faith in the power of camp and a stage full of ripped, shirtless men.
Recent theatre features…
Bryan Cranston Goes 'All the Way' On Broadway As Lyndon B. Johnson: REVIEW
Possessed Puppet Satire 'Hand to God' Opens Off Broadway: REVIEW
New Musical 'The Bridges of Madison County' Opens On Broadway: REVIEW
Pulitzer Prize Winning 'Dinner With Friends' Opens Off Broadway: REVIEW
Drag Impresario Charles Busch Dolls Up For 'The Tribute Artist': INTERVIEW
Follow Naveen Kumar on Twitter: @Mr_NaveenKumar (photos: matthew murphy)