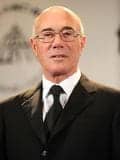 The L.A. Clippers could have a gay owner if NBA Commissioner Adam Silver forces a sale of the team, the L.A. Times reports:
"If the Clippers become available he would be interested in buying the franchise," his office said via email, adding that Geffen was not available to elaborate.
Geffen, with a net worth that Forbes estimates at $6.2 billion, reportedly tried to buy at least a controlling stake in the Clippers in 2010 but was rebuffed by owner Donald Sterling.
Silver fined owner Donald Sterling $2.5 million today and banned him from the NBA for life over racist remarks that surfaced over the weekend.