The Board of Gay Men's Health Crisis has announced that Kelsey Louie is the organization's new CEO: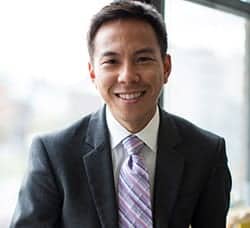 Louie is a dedicated manager with deep expertise in administering programs that serve people with HIV/AIDS, and a track record of strengthening their client health outcomes. Louie comes to GMHC after seven years of leading programs at the Harlem United Community AIDS Center, most recently as its Chief Operating Officer.
GMHC firmly believes that, in this moment in history, we can — and must — eradicate AIDS as an epidemic. Doing so will require a deeper level of partnership between the city, the state, GMHC and other community-based agencies than ever before to ensure we broaden the reach of our efforts as widely as possible and maximize our impact. That's why the Board has chosen Kelsey Louie, an innovator in the field of HIV/AIDS care and prevention services, to lead GMHC as its next CEO," said Myron Sulzberger Rolfe, Chair of GMHC's Board of Directors. "We are delighted to welcome Kelsey back to GMHC."
Louie, a native New Yorker who holds an MSW from New York University and an MBA from Columbia University, joins GMHC after years of work in community-based HIV/AIDS prevention and care. Most recently, as Chief Operating Officer at the Harlem United Community AIDS Center — where he has worked since 2007 — he has managed a staff of 350 and overseen the agency's $42 million budget and operations, working to expand and strengthen the agency's services for its thousands of clients. Louie's previous employers include respected organizations such as New York Foundling, Veritas Therapeutic Community Inc., and the Jewish Board of Family and Children's Services. He has also served as an adjunct faculty member at the NYU Silver School of Social Work.
Louie replaces Marjorie Hill, who was fired by the board last September.
GMHC provides health and social services to HIV-positive people, promotes HIV/AIDS prevention, and organizes New York's annual AIDS Walk.