#Glenngreenwald and #LauraPoitras arrive safely at JFK airport. There was fear they'd be arrested over #edwardsnowden pic.twitter.com/xhssow3Lfe

— Ted Shaffrey (@TedShaffrey) April 11, 2014
Journalists Glenn Greenwald and Laura Poitras entered the United States for the first time since reporting on NSA documents leaked by Edward Snowden, according to a tweet from AP reporter Ted Shaffrey. Accompanying Greenwald was his partner David Miranda.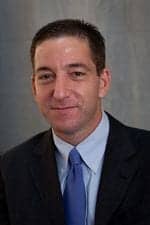 Greenwald and Poitras are in the country to attend Friday's Polk Awards ceremony in New York City according to the HuffPost:
The two journalists are sharing the prestigious journalism award with The Guardian's Ewen MacAskill and with Barton Gellman, who has led The Washington Post's reporting on the NSA documents. Greenwald and Poitras interviewed Snowden last June in Hong Kong as he first revealed himself.
In an interview with The Huffington Post, Greenwald said he's motivated to return because "certain factions in the U.S. government have deliberately intensified the threatening climate for journalists."
"It's just the principle that I shouldn't allow those tactics to stop me from returning to my own country," Greenwald said.
Greenwald suggested government officials and members of Congress have used the language of criminalization as a tactic to chill investigative journalism.
Greenwald told the HuffPost his legal counsel has not been informed "whether or not he could face any potential charges, or if he's been named in any grand jury investigation tied to the NSA disclosures."