Pennsylvania state Rep. Mike Schlossberg (D-LEhigh) said this week that he plans to introduce legislation granting gay married couples (who married elsewhere, since it's not legal in PA) the ability to divorce in the state, the Express-Times reports: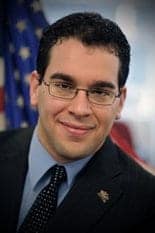 "A divorce is an emotionally and financially draining situation as it is, so imagine if you were trapped in a marriage and couldn't legally get out of it and were being denied that legal and emotional closure," Schlossberg said. "It really is a travesty of justice."
…Schlossberg said granting divorce rights would not only end the "divorce trap" for same-sex couples, but allow people exiting those marriages to pursue such benefits as child custody, alimony and property rights.
Of the states where same-sex marriage is legal, only Vermont and Delaware allow couples to divorce without residency, and even then only if they married there in the first place.
New Jersey and New York require one of the spouses to be a resident for at least one year. Schlossberg said Colorado and Wyoming allow same-sex divorces even though marriages are not legal there.