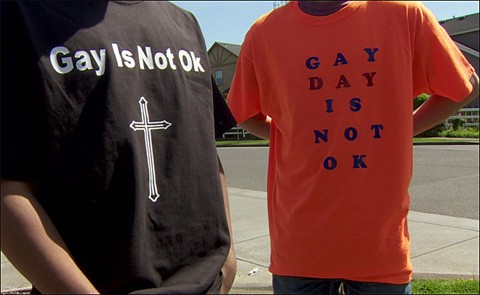 Friday was the national student anti-bullying "Day of Silence" in which students took a vow of silence to raise awareness about bullying. Four students in Oregon City, Oregon decided to respond with their own protest:
They wore T-shirts to school that said, "Gay Is Not Ok" and "Gay Day Is Not OK," which is a reference to Day of Silence. They sought out a KATU reporter to be interviewed.
Said one student: I don't have a big problem with gay people. It's just when they start parading around the school about how 'we have a day of silence for gays, lesbians, transvestites'. It's like, we don't have a straight day."
Watch KATU's interview with the students, AFTER THE JUMP…