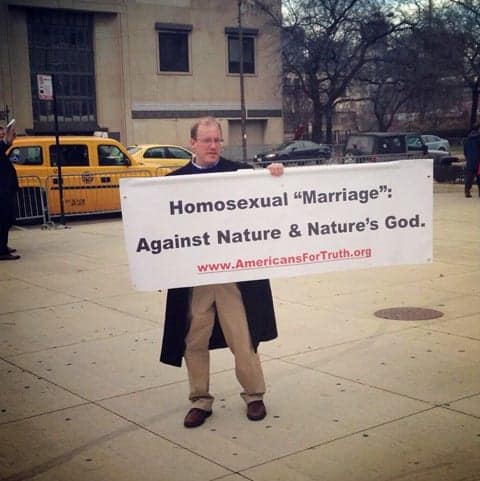 LaBarbera outside the Illinois marriage equality bill ceremony last year.
Anti-gay wingnut Peter LaBarbera was detained at the Canadian border on Thursday as immigrations officials examined whether he might be in violation of the country's laws against hate speech, LaBarbera reported on Thursday.
Wrote LaBarbera on his site after tweeting about the incident:
Upon deplaning, as I passed through Customs, I was delayed for further questioning by an official with the Canada Border Services Agency. Obviously, I had been flagged as a result of a campaign by the leftist group "Intolerance Free Weyburn," which is specifically lobbying the Canadian government to deny my entry into Canada as the alleged purveyor of "hate'" [See this AFTAH report on their lobby effort to deny me entry into Canada, and this previous report on the group's attempt to have me removed as a speaker at the Saskatchewan Pro-Life Association (SPLA) conference April 11-12.]
After questioning me about the purpose of my scheduled presentation at the SPLA event; rifling through my luggage, which contained numerous books and literature related to homosexuality (pro and con); examining the contents of my laptop and my cell phone; playing a DVD of my speech Wednesday at Sinclair Community College in Dayton, Ohio; and critically viewing AFTAH's website–a preliminary decision was made to deny my entrance into Canada on the basis that my speech at the SPLA would violate Canada's "Hate Propaganda" law (essentially the potential for "public incitement of hatred" against a group of people based on their "sexual orientation"). The Orwellian experience at Customs dragged on for more than three hours as a formal document was issued outlining my denial of entry under Canada's Immigration and Refugee Protection Act (citing the Hate Propaganda code). Finally, after 1:00 A.M., I was released pending my appeal of the decision today (Friday). My passport was seized until I arrive back at Customs today at noon for my appeal before a "Minister's Delegate Review."
No word yet on that appeal.