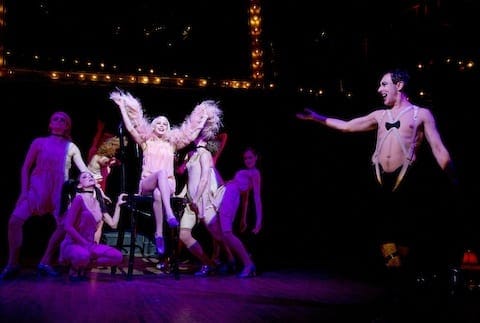 BY NAVEEN KUMAR
A decade after ending its six-year run on Broadway, directors Sam Mendes and Rob Marshall's acclaimed revival of Cabaret returns to Roundabout Theatre Company's Studio 54, where it opened on April 24. Stepping back into his Tony-Award-winning turn as the Emcee, Alan Cumming reigns over the evening with an unshakable carnal magnetism, while Michelle Williams makes a brave Broadway debut with a deeply felt, if less than iconic performance as Sally Bowles.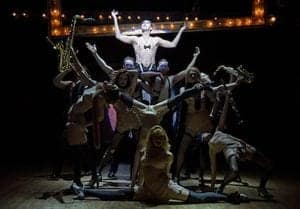 As it was then, the theatre is transformed into something closer to its nightlife roots, and it's hard to imagine a more fitting home for the seedy glam of Cabaret's Kit Kat Klub than Studio 54. Based on stories by Christopher Isherwood and a play by John Van Druten, the musical by John Kander (music), Fred Ebb (lyrics) and Joe Masteroff (book) has been on Broadway four times since its debut in 1966. Though reviving a revival could easily seem like a lesson in unoriginality, it feels, in this case, like a welcome homecoming.
And who wouldn't want to come home to an army of omnisexual pretty young things, writhing, dancing and playing an array of instruments in various states of undress? If not—well, you've come to the wrong place. 1930s Berlin is not for the unadventurous, and fortunately, Clifford Bradshaw (Bill Heck), an American writer searching for his novel abroad, is not. Just hours after his arriving in town, he's already gotten chummy with Sally, an itinerant English club singer, and shared a passionate lip-lock with something of a former beau.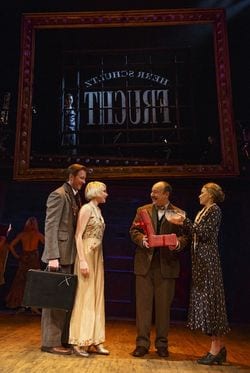 Running parallel to Cliff and Sally's tryst is the more modest courtship between Fräulein Schneider (Linda Emond), from whom Cliff lets his room, and Herr Schultz (Danny Burstein), owner of the local fruit shop. That the supporting romantic storyline is far more affecting than the first is a testament to both the supreme talents of Broadway vets Ms. Emond and Mr. Burstein (Tony-nominated this week for their performances), and the lukewarm chemistry between Heck and Ms. Williams.
As the pragmatic Schneider, Emond strikes a touching balance of world-weary warmth that's especially powerful in her commanding performances of 'So What' and 'What Would You Do?' Burstein is perfectly matched, with his intuitive handling of Schultz's vacillating pride and vulnerability. Heck's Clifford seems a bit more inscrutable than hungry for experience, which may help explain his less than magnetic connection with Williams' Sally.
Standing up to the memory of an indelible, Tony-winning performance by the late Natasha Richardson in the original version of this production is a daunting task, even—and maybe especially—for a young Hollywood star. Williams brings the sort of clever beauty and coy sensibility of a Marilyn Monroe to the role, and a well of readily available emotions to draw upon. She does fine work leading early club numbers like 'Don't Tell Mama,' and passable renditions of more emblematic songs like 'Maybe This Time' and the title finale. But to her Sally, chasing pleasure seems more like a whim than an addiction, and most of the company (except for Nazi Erst Ludwig) look to be having more fun.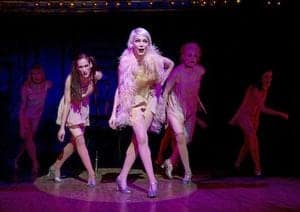 Of course, pre-Nazi Germany is anything but all fun and games, and the air in the Kit Kat Klub is as thick with danger as it is sexual thrill. Brewing the show's heady mix of hedonism and doom, carelessness and dread is Cumming's dynamite Emcee—straddling a line between masculine and feminine and making near bedfellows of everyone in the room. With him at the mic, you have little to no choice but to do as he says and leave your troubles at the door.
Recent theatre features…
Daniel Radcliffe Opens on Broadway in 'The Cripple of Inishmaan:' REVIEW
James Franco and Chris O'Dowd Open On Broadway In 'Of Mice And Men:' REVIEW
Harvey Fierstein On Straight Men In Stockings And His New Broadway Play 'Casa Valentina': INTERVIEW
Woody Allen's 'Bullets Over Broadway' Musical Starring Zach Braff Opens On Broadway: REVIEW
Denzel Washington Opens in 'A Raisin in the Sun' On Broadway: REVIEW

Follow Naveen Kumar on Twitter: @Mr_NaveenKumar (photos:joan marcus)
If you enjoyed this post, please consider SHARING it on social media.
Also, please LIKE us on Facebook, and follow us on Twitter, and Instagram.